Faster and smarter in the app...
Open app
London vs Paris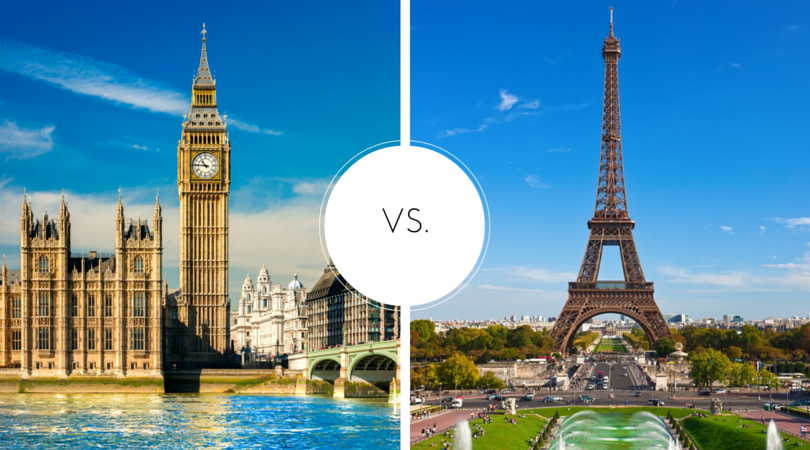 London vs Paris, a battle as old as time. Two fantastic cities, one prize. Where do you even start when it comes to comparing these iconic destinations? To help you decide, do your research by reading our guides to London's best museums for families and roundup of London's top free things to do. To keep things fair, we have also put together the best hidden gems of Paris and a helpful Paris shopping guide. Let's look at the key criteria for a rip-roaring city break, and see whether London or Paris comes out ahead.
London vs Paris: Tourist Sights and Attractions
London
No tourist, ever, has run out of things to see and do in London. From the London Eye, the SEA LIFE London Aquarium and the Tower of London to Madame Tussauds, ZSL London Zoo, London city bus tours and the River Thames itself, there are world-famous attractions whichever way you turn.
10/10
Paris
The Eiffel Tower is the grand papa of the Parisian visitor attractions. The recently revamped Parc Zoologique de Paris and the Grevin Wax Museum (Tussauds with a French flavour) are also quality tourist-fare. Walking tours and boat trips along the River Seine are very popular ways to soak up this sophisticated city's ambience.
6/10
London vs Paris: Food and Drink
London
A vibrant cosmopolitan community ensures that the English capital offers bountiful choices when it comes to eating out. And with British fine dining blossoming in recent decades, there's a lengthy list of award-winning home-grown restaurants to sample too. It almost goes without saying that London's 33 boroughs are also home to thousands of pubs and bars. A thirsty traveller will never be short of cosy locals, traditional city pubs and riotous chains. Hipster hangouts and cocktail bars abound in central areas from Soho to Hoxton.
8/10
Paris
Many people travel to Paris for the restaurants alone, so an outstanding meal is guaranteed in the French capital. You'll be wading through the Michelin stars at classic eateries like Le Grand Véfour and Restaurant Le Meurice; and savouring authentic and innovative dishes from bistros and street sellers around the city's multi-cultural arrondissements. The hip bar scene is thriving, especially in too-cool-for-school neighbourhoods like Montorgueil, Marais and Saint-Germain.
10/10
London vs Paris: Entertainment
London
There's no better place in the world to see a show than London's West End (okay, Broadway's a close second). Whether you're a fan of the razzle dazzle of musical theatre or the latest productions by edgy theatre companies, there's a folding seat with your name on it. With monster arenas like the O2 and Wembley, iconic dance and comedy clubs and live music venues, plus numerous blockbuster and indie cinemas, you will be entertained.
10/10
Paris
Paris has a lively theatre scene (mostly with French dialogue); the Palais Garnier and Opéra Bastille for world-class ballet and opera; large music halls like Olympia, Casino de Paris and La Cigale where top international names perform; and the city's signature saucy cabaret and burlesque shows at clubs including Le Lido and Moulin Rouge. It's also known for its quirky and often pop-up music venues and many, many atmospheric jazz and blues dens.
8/10
London vs Paris: Shopping
London
Fashion, gifts, art, technology, homewares, antiques, books, food - you name it, you can buy it in London. Visitors head in their droves to the city's world-famous markets including Camden, Borough and Portobello Road; high-end department stores Selfridges, Harrods, Liberty and Harvey Nichols; and shopping areas and centres such as Oxford, Regent and Bond streets, St Christopher's Place, Covent Garden and Neal's Yard, Kensington, Knightsbridge and the King's Road, Westfield, Canary Wharf, Shoreditch...
9/10
Paris
Another shopper's paradise, Paris has something for everyone from street and flea markets (such as the huge Marché aux Puces de Saint-Ouen) and super-cool boutiques to haute couture houses (it is the home of Chanel, Givenchy and Christian Louboutin after all) and huge department stores including Galeries Lafayette. The Faubourg Saint-Honoré district is where you'll find the majority of the designers, while Boulevard Haussmann is department store central. The Champs-Elysées is the place to go for bags of affordable high street fashion.
9/10
London vs Paris: History and Culture
London
No one can deny that London is absolutely bursting with history and culture. The amazing free museums and galleries (Natural History, Science, British, V&A, Tate Modern, Tate Britain, National and National Portrait are just for starters), the South Bank, royal palaces and historic buildings including St Paul's Cathedral, the Houses of Parliament and Big Ben, the royal family, a world-renowned and inventive contemporary art scene, creative street culture, gorgeous scenery including spacious and lush parks like Hyde, St James's, Green, Regents, Greenwich, Victoria...
10/10
Paris
Paris has more than its fair share of heritage and culture too. Le Louvre is the most visited museum in the world, with the Musée d'Orsay and Pompidou Centre attracting massive crowds too. There are many other smaller museums and galleries including Musee National Rodin, Musee Marmottan-Claude Monet and Musee du Quai Branly. A beautiful city, there's plenty of iconic architecture to admire from Arc de Triomphe and the Seine River bridges, to Notre-Dame and Sacré-Coeur.
Exploring the different districts on foot is a cultural feast in itself. Like London, Paris has heaps of green space from the expansive Bois de Vincennes and Bois de Boulogne to the manicured promenade of the Jardin des Tuileries near the Louvre. Pére-Lachaise is the most visited cemetery in the world, with the tombs of Jim Morrison and Oscar Wilde the most popular, but the likes of Édith Piaf, Isadora Duncan and Chopin are here too.
9/10
London vs Paris: A Warm Welcome?
London
It's a huge city crammed with busy people from all over the world trying to do stuff quickly, so London's not really the kind of place where you get chatting on the street. Saying that, it's well set up for tourists and you will meet some fascinating characters on your travels.
6/10
Paris
The French aren't always renowned for the welcome they give visitors. But that Gallic disdain is not universal and you will certainly come across helpful and friendly locals. Again, this is a bustling metropolis, so chewing the fat with strangers is not really its style.
6/10
London vs Paris: The Results!
London - 53/60
Paris - 48/60
Sound off! Do you agree that London triumphs over Paris? Let us know in the comments below!

If you found this post on London vs Paris helpful, you may want to read more of our Wanderlust articles. Also check out our travel blog for additional inspiration and travel tips to make your holidays hassle-free!
If you enjoyed this post like us on Facebook and follow us on Twitter or subscribe to our YouTube channel.