Faster and smarter in the app...
Open app
What are the best ways to pack for a flight?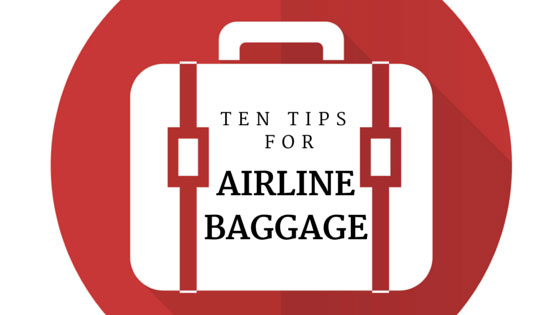 Many of the biggest headaches we face going on holiday revolve around luggage. Is my airline baggage the right size? Does everything fit? Will my Fabergé Eggs be safe? You know, things everyone has to worry about.
But deciding what to take doesn't have to be a faff! Read our ten airline baggage tips to help you travel better:
Make the most of cabin luggage
There are times when you'll have no choice but to stow items in your checked luggage (boo). But if you can get away with a good, compact case you can save your precious holiday time. You'll be able to bypass the queues of people waiting for their bags to appear on the conveyor belt. Just remember to double check your airline's cabin luggage size restrictions.
Wear your bulkiest items on the plane
Plane cabins tend to be pleasantly cool, so don't be afraid to pop on your biggest coats, boots or shoes. This will save you plenty of room in your luggage for souvenirs or duty-free!
At the very least, we think it's a good idea to wear as much as possible, without looking like a pack mule.
Only pack what your need
It's certainly a case of practice makes perfect when it comes to packing, and if you're limited to one big holiday a year, you may be less confident. Luckily, we've clocked up enough miles to impart a few nuggets of wisdom! Take a look at our tips on things you don't need to take on holiday to be in the know.
PRO TIP: If you want to really want to tidy lots of clothes in your luggage, then invest in some vacuum storage bags. Try it once and you won't look back!
Ship your luggage
If you want to avoid all the hassle of airline baggage restrictions entirely, it might be worth looking into shipping your luggage. Sites such as SendMyBag.com will give you a quote for sending your luggage directly to your destination from your home.
Deliveries usually take 1-3 days, so to avoid surviving on one pair of underwear, make sure you pack well in advance of your flight!
Use bathroom scales to weigh your luggage
We've all been there.
It's the day before your flight and you have no idea if your airline luggage will be under the weight limit. If you find yourself in a pinch, grab your ordinary bathroom scales and stand your baggage on it; it might not be the most accurate reading in the world, but it should give you a good idea if you're over the limit.
Just make sure your scales can take the weight! Alternatively invest in a handheld suitcase scale - they can be picked up for a few pounds and will prevent extra charges.
Track your airline baggage
With the internet at our fingertips, there's no reason for airline luggage to go missing. You can now buy smart suitcases that can be tracked via a smartphone app. The future, amirite?
Although these can be quite expensive, tracking devices such as a Trakdot or ReboundTag can be fastened to your suitcases and will do the trick for a fraction of the cost.
Guaranteed peace of mind!
How to make your airline luggage stand out
Anyone who's waited for their checked luggage to appear on the conveyor belt will know that it can be like finding a needle in a haystack. Sifting through dozens of almost identical black luggage can be a nuisance at the best of times, let alone when all you want to do is hit the beach.
Yet you don't have to subject yourself to purchasing a garish piece that will garner unwanted attention and disapproving clucks. Simply tie a ribbon to the handle of your airline baggage and you'll be able to spot it much more easily, giving you a quicker getaway out of the airport and to holiday merriment.
Invest in good airline luggage
It's definitely a case of you get what you pay for when it comes to airline baggage. Quality luggage pieces will not only last longer (saving you money in the long run), but they also tend to be better designed then their cheaper counterparts, allowing you to pack more efficiently.
If you have to do a fair amount of walking to and from the airport, we find that good quality wheel cases work like a dream, especially if your route is rough or uneven.
Look for hotel and airline luggage incentives
If you're worried about being stung with extra baggage charges from your airline, it may be worth joining a frequent flyer program, as these can reduce how much you'll pay for checking your luggage.
Some of the larger hotel chains may also offer to pay your airline luggage when you stay with them. Drop them a line if you think this might apply to you.
Get some wheeled luggage
You can now find wheeled airline baggage for any budget, so there's no excuse to struggle with the old school, static suitcases. If you're persevering with vintage luggage, make this the year that you upgrade to a new set of wheels!
Want to know more about how to prepare for the airport? Watch our guide to Glasgow Airport to get a walkthrough the entire process.
Wherever you fly to, don't struggle to your hotel with your luggage. Travel better with Holiday Extras and find out how to get airport transfers from as little as £2.33.
If you enjoyed this post like us on Facebook and follow us on Twitter and Instagram or subscribe to our Youtube channel