The Best Fake Tans
The best fake tan - no orange, no problem.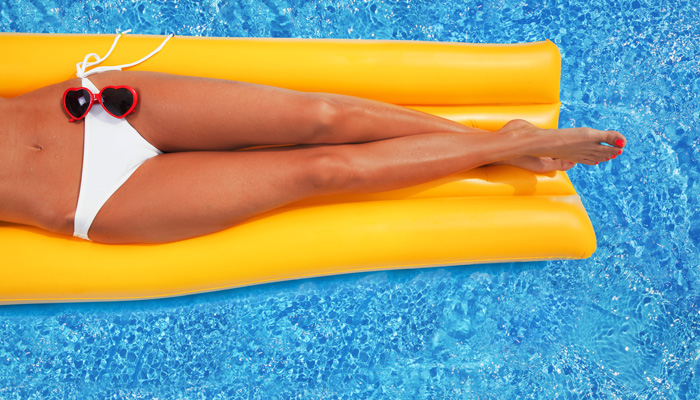 We've got that instant, easy, fake tan on our minds as summer holidays loom on our calendar. Whether heading off to one of Tenerife's Top Beaches or enjoying the beaches of Cornwall closer to home, don't disregard that fake tan summer glow. If you're just starting to think about getting bronzed for an upcoming holiday, the bad news is it's going to take more than a sudden heatwave to get you looking sun-kissed in time for your trip. The good news is there are plenty of fast, safe and thoroughly convincing ways to tan your bod this summer, and you won't need an A-lister budget to get your hands on them.
Read on for our most highly recommended self-tanning products that will give you the best fake tans for summer 2016.
The Best Fake Tan for A Glowing Holiday Look
The Gradual False Tan
For a natural-look tan, using a slowly-developing gradual tanner is usually the best bet. There are so many products out there it can be hard to know which will best suit your skin, but all of the following come highly-rated among the beauty blogging community.
Michael Kors' recent move into the self-tanning market has produced some impressive results, with Liquitan Self Tanner (£18) leading the way. The effect is immediate and according to beauty blogger Caroline Hirons, doesn't have that dreaded 'biscuit' smell!
Fake Bake is a long-standing favourite of the beauty community, and it turns out some of the top tanning products including the classic 60-minute self-tan liquid (£24), which is formulated with a handy 'shows where it goes' ingredient that fades after application.
For those looking to just add a hint of sun-kissed glamour to their look, tanning moisturisers such as Dove's DermaSpa Summer Revived (£6.99) are a good way to go. These produce a more subtle effect, and are great for those who want to avoid a full-on TOWIE tan! This is also one of the best fake tans for face, as it won't give your skin that odd multi-colour effect.
The High-tech Tan
There's nothing less attractive than a unevenly-applied, streaky fake tan, so to avoid looking like a rasher of bacon on the beach this summer, you may want to try using one of a new breed of high performance fake tans that have been whipping up a storm among beauty addicts recently.
One approach is to try a mousse-based product like St. Tropez Classic Self Tan Bronzing Mousse (£20+), which it loved for its ease of use as well as it's natural-looking results. Many people find the foamy formula of a mousse easier to apply than lotions, and because they sit more lightly on the skin, these products can feel a lot less greasy, too.
Alternatively, you might want to try out Cocoa Brown by Marissa Carter (£7.99); a product that's been causing a stir online ever since beauty blogger Suzy B posted impressive before-and-after images to highlight its streak-free finish. At just £7.99 a bottle, it certainly represents great value for money, so why not find out for yourself what all the hype is about?
Another tried-and-tested tanner that results in a beautifully bronzed bod is Ambre Solaire No Streaks bronzer (£13.99), which has an added golden 'shimmer' to give extra pizzazz to a natural-looking tan. This product can be used just once for a lighter glow, or built up over several sessions for a deeper bronzed look.
The Sensitive Tan
One common concern about fake tan is how the products can react with sensitive skins. Not everyone gets on with the chemicals used to create high-impact bronzers, so these gentler lotions have all been prepared with ingredients known to nourish and care for the skin. It's worth trying a few testers out to find out which works best for you.
If you're a fan of mineral makeup and like to keep your skincare routine as natural as possible, Bare Minerals Faux Tan Sunless Tanner (£20) is a good tanning choice for you. It's paraben-free and doesn't contain any artificial oils, reducing the likelihood of redness and irritation. Packed with nourishing aloe-vera, this formula is also designed to prevent clogged pores, which leaves skin feeling wonderfully clean. This is one of the best fake tans for pale skin as well!
If you have reaction-prone skin but still want to go all-out with strong, long lasting colour, Bioderma Photoderm Autobronzant (£15) is a fantastic hypoallergenic product made by a trusted brand with a speciality for sensitive skins. The tan is applied as a fine mist, which makes it easier to create an even tone.
For those with dry skins, Xen Tan Moroccan Med (£18.74) has been specially formulated to moisten and nourish the skin while providing a natural-looking tan. This paraben-free lotion contains moisturising argan oil, and is naturally scented with tropical coconut extracts.
The Quickie Tan
Can't wait even a few hours for a golden tan? Instant tanners have come on a long way, and if you're not up for the commitment of a long-term tan, one of the following could be the product for you - if only to take you off the plane and on to the beach, where the bona fide bronzing can begin!
Rimmel's Instant Tan (£6.99) receives glowing (*cough*) reviews across the board, and can be washed off as soon as you decide you're bored of the bronze. However, its smart formulation makes it resistant to sudden rainstorms, drink splashes and other unexpected immersions that can occur on holiday. Perfect for a night on the town.
To get your legs looking tanned and glowing, Sally Hansen's Airbrush Legs (£9.99) is a quick and easy way to perfect pins. Quick and easy to use with minimal mess, this spraycan tan also gives legs a healthy-looking sheen.
If you found this post on the best fake tans helpful, you may want to read more of our Before You Go articles. Also check out our travel blog for additional inspiration and travel tips to make your holidays hassle-free!
If you enjoyed this post like us on Facebook and follow us on Twitter or subscribe to our YouTube channel.
Written by Abi Silvester, a London-based writer and editor with a passion for great food, fine wine, coffee and cats; always planning my next trip! Follow her on Twitter.
Top