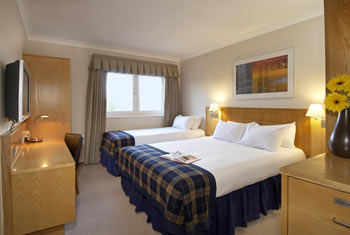 Stansted airport hotels - we've been selling them since 1983. There are some fantastic hotels at Stansted and we know all about them. We're always listening to what our customers have to say and that's why we've compiled a helpful list of Stansted airport hotel FAQs.
Why should I pre-book my Stansted airport hotel?
Booking a Stansted airport hotel in advance is a smart move because you can save up to 40 per cent on the standard price. The earlier you make your booking, the cheaper the price is likely to be. Turning up on the day and paying the standard can result in your wallet taking a serious hit. So plan ahead and book through HolidayExtras.com to save some money - and the hassle of hunting for a hotel room.
What if I need to cancel my hotel at Stansted?
Cancelling your hotel booking is simple. When making a booking on HolidayExtras.com, there is an opportunity to add a cancellation waiver. For a non-refundable £2.50, you can protect the cost of your booking for up to 24 hours before the day of your trip. That means you'll get a full refund if you need to cancel.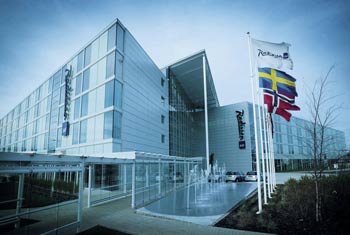 How many hotels do you have at Stansted airport?
We sell six hotels at Stansted airport. The Cock Inn hotel, the Holiday Inn Express, Warmans Barn House hotel and the Whitehall hotel are all 3-star hotels. The Hilton London Stansted airport and the Radisson Blue Stansted airport are both 4-star hotels.
Do you sell Stansted hotels that include a parking package?
We've worked hard to negotiate exclusive parking packages at all of our Stansted hotels. Included in the price of your booking, you can opt for up to eight or 15 days' parking. By booking a hotel with parking, it means you'll either park at the hotel's car park. If you book a stay at the Radisson Blue Stansted airport your car will be moved to a secure location for the duration of your trip.
What's the difference between on and off-airport Stansted hotels?
We sell two types of airport hotels at Stansted. Off-airport hotels tend to cost less because the hotels are not situated within the airport grounds. The airport terminal is just a short transfer away from our off-airport hotels at Stansted. Our choice of off-airport hotels includes the Whitehall hotel and the Cock Inn Hotel. On-airport hotels are very close or within the airport perimeter. The following hotels are just a short transfer ride away from the terminal: the Hilton London Stansted airport and the Holiday Inn Express Stansted. Alternatively, the 4-star Radisson Blu Stansted is just a two minute walk - there's no need for a transfer.
Top