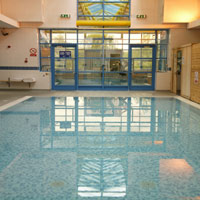 Refurbishment plans for the Gatwick Ramada Plaza Hotel have been revealed.
Guests staying at the Gatwick Ramada Plaza Hotel in September can take a break from the demands of the gymnasium as an essential refurbishment programme has been scheduled to take place in the Sebastian Coe Health Club.
Running from September 1-12, the renovations will see improvements made to the facilities at the health club, which currently include a gymnasium, indoor pool, sauna, solarium and health and beauty amenities.
Re-opening on September 13, guests will be able to enjoy either a pampering session or a work out in the gym during their stay.
Whatever you choose to enjoy, a stay at the Gatwick Ramada Plaza Hotel will be the perfect start to your holiday, enabling you to avoid any potential travel complications on the way to the airport on the day of departure, since transfers will transport you direct to all terminals.
Room at the Gatwick Ramada Plaza Hotel with up to eight days holiday parking from £122*
*Please note: This price is correct for bookings searched on August 1, 2008. Prices are subject to change. Book the Gatwick Ramada Plaza Hotel in advance to get the best price and availability.