Manchester Airport has reiterated the guidelines for using fireworks within the vicinity of the airport and its flight paths.
Under the guidelines, only small fireworks and strictly no rockets can be used within 1.1 miles of the airport or its flight paths, with all categories of fireworks only permitted between 5 and 10 miles away.
Wendy Sinfield, Community Relations Manager at Manchester Airport, said: "We're not trying to spoil anyone's fun and we known that fireworks and displays are increasingly popular, but they can be dangerous to planes. Pilots can be dazzled by unexpected displays and we want to make sure that our aircraft are safe."
The airport has also announced plans to halt services at the airport on November 1, 2008 for 15 minutes from 8.15pm to allow for neighbouring communities to hold the annual fireworks display.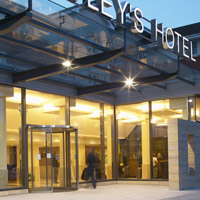 Manchester Airport currently operates flights to more than 225 worldwide destinations annually, with over 22 million passengers passing through its terminal.
For those looking for that little bit extra either before or after their flight from Manchester, a stay at the 4-star Manchester Bewley's Hotel - located on-site - will guarantee the perfect addition to your holiday experience.
Room at the Manchester Bewley's Hotel with up to eight days holiday parking from £135*
*Please note: This price is correct for bookings searched on August 4, 2008. Prices are subject to change. Book the Manchester Bewley's Hotel in advance to get the best price and availability.