What To Wear On Your Flight
How to keep comfortable and stylish in the skies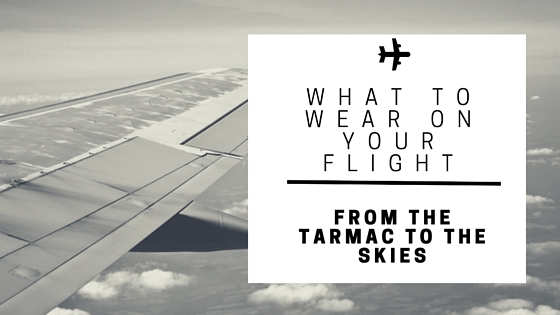 When it comes to travelling, deciding what to wear on your flight is just as important as what to wear when you arrive. Flying present some interesting fashion-based challenges, but fret not, they're easy to overcome. Here's a quick rundown of clothing items you won't want to be without on your next flight.
Should you wear warm layers on a flight?
You may be jetting of to sunnier climes, but the inside of an aircraft can be pretty chilly at high altitudes, particularly at night. If you're not warmly dressed you'll be uncomfortable, and you're far less likely to get any sleep if you're shivering. But once the cabin heats up, you'll want to know you can keep cool and avoid that stale, sweaty feeling (yuck) that can blight any journey. Here's some items to help you keep a happy balance:
Hoodie
You'll be grateful of your trusty hoodie once the temperature starts to dip, so we definitely recommend packing it, especially if it's made from fleece that's both warm and non-bulky. It'll also double up as a rather comfy pillow if you're planning on catching 40 winks.
Cosy Socks
Do you have a pair of slouchy socks that you like to pull on at home when the weather gets chilly? Then they deserve to come on holiday with you, and might just keep your feet toasty on chilly flights. A pair of balled-up socks won't take much room in your hand luggage, so be sure to pack them. Slipper socks are also a winner if you want to try and stay active during the flight.
Loose-fitting layers
Underneath your thermal items, we think it's a good idea to stick to beathable items that let in some air, as this will help to avoid that dreaded clammy feeling. If you get too hot, you can strip down to these loose-fitting garments easily, and it's also worth avoiding clothes that dig in when you're going to be sitting still for a long time. Go for natural fibres over man-made ones wherever possible.
How to secure your valuables on a flight
When you're cooped up with a bunch of srangers, you might reasonably feel concerned about some of your personal items, particularly if you're hoping to sleep. One way around this is to keep them close to your body at all times, either in pockets or a money belt. So when you choose your travel basics, be sure they've got somewhere to stash those valuables. For even more advice on ho to keep your possesions safe and sound around the airport, check out our best airport tips.
Cargo pants
Cargo pants, or 'combats' with lots of pockets work well, particularly as they're also a loose fit. Choose a pair with a drawstring waist for extra comfort, which you can undo a little when you want to kick back in your seat.
Travel vests or jackets
You'll feel even more confident that your valuables are safe if you can lierally keep them close to your chest. Specially designed travel vests and jackets have secure pockets for your wallet, passport and more, and are a great addition to your high-altitude wardrobe. Outdoor and camping shops should give you plenty to choose from.
Bum bags
Whether you know them as bum bags or fanny packs, there's no beating them if you want to keep your items secure while travelling. Not only will they keep your valuables safely in front of you, but they allow you to access you passport, charger and mints without having to search through your suitcase. Oh, and despite what you've heard, they're the height of fashion and don't let anyone tell you any different!
What footwear should you wear on a flight?
Some of the crew might be working the aisles in impossibly high heels, but this is one occasion when sensible shoes really come into their own, and nobody will judge you for treating you feet!
Think flat and functional, but don't worry about compromising on style: a lightweight pair of trainers or slip-on pumps should do the trick, as long as they're comfortable and allow your feet to breath. TOMS are a particularly good all-rounder, but you probably have your favourite all-round easy shoe.
Remember that feet, along with other parts of our bodies, tend to swell up during flight, so don't go for anything that's a bit on the tight side, even if you can usually get away with it on the ground. And it goes without say that heels are a no-no: remember you'll be standing around in customs for a potentially lengthy period when you arrive.
What should you wear for when you arrive?
Finally, don't forget to bring something suitable for your arrival - whether that's a light sun dress or shirt and sun hat you can throw in if it's going to be hot, or something a bit more stylish if you're meeting someone you're hoping to impress. Pick something that fits the bill before you leave for the airport, and make sure it's small enough to fit it in your hand luggage along with any make-up and hair products you might want to add to make your arrival a bit more special. Adding accessories to your in-flight outfit can always work as an easy-to-pack option!
Have you got any travel fashion tips? Let us know and subscribe to our Youtube channel for more travel guides and new videos from our studio. While you're at it, why not like us on Facebook, and follow us on Twitter and Instagram for daily content to help you travel better.
Top