News reports have revealed that the cost of Heathrow landing slots has led to an increase in so-called 'empty plane' flights from the airport.
These slots have significantly limited the success of many airlines, with the asking price thought to be in the region of £30 million. As such, airlines such as bmi are prepared to lose a much smaller £20,000 per flight than risk forfeiting such a lucrative slot.
The news comes in the wake of plans for a third runway at the airport, and will lend credence to the arguments that such development would only serve to be to the detriment of the environment.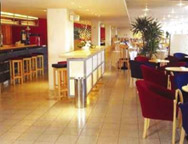 Heathrow currently operates nearly half a million flights over the course of a year. With Holiday Extras, visitors to the airport may choose to enjoy an overnight stay at the Heathrow St Giles Hotel before their flight.
Conveniently located near the airport, the stylish furnishings of the hotel makes for a relaxing start to your next holiday.
Room at the Heathrow St Giles Hotel with up to eight days holiday parking from £99*
*Please note: This price is correct for bookings searched on July 18, 2008. Prices are subject to change. Book the Heathrow St Giles Hotel in advance to get the best price and availability.