One of Europe's most intriguing festivals is set to take place throughout the month of September as Italy celebrates its tenth annual 'Festival del Prosciutto' - the Parma Ham Festival.
Taking place in 12 small towns throughout the Parma producing region, the festival sees each farm and factory involved in the production of Parma ham open their doors to visitors.
You may choose to join the trail of the festival for yourself and savour the succulent samples on offer, joining the guided tours of what have become known as the 'Parma Ham Cathedrals', each of which provides an insight into the process involved in the production of this world renowned delicacy.
For those interested in visiting the festival, flights to either Milan or Bologna will prove to be the most viable options. Both destinations can be reached on flights from London Gatwick Airport, where you may also choose to enjoy an overnight stay before flying to help get you in the holiday mood before departure.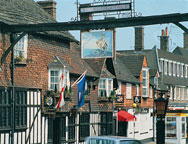 For example, travellers may wish to arrive at the airport the day before their flight for an overnight stay at the Gatwick George Hotel.
This historic 3-star hotel is rich in character and is conveniently located for access to the airport, and will offer a relaxing stay for those travellers looking to start their holiday early.
Room at the Gatwick George Hotel with up to eight days holiday parking from £112*
*Please note: This price is correct for bookings searched on August 19, 2008. Prices are subject to change. Book the Gatwick George Hotel in advance to get the best price and availability.