An introduction to East Midlands airport
East Midlands airport is in Lockington, Leicestershire. It mainly serves the areas of Nottingham, Leicester and Derby. The airport has one terminal and operates both domestic and international flights, with flights going to and from Paris, Egypt, Turkey, Greece and Ireland, to name a few. The airport has a range of facilities including executive lounges, East Midlands airport parking and East Midlands airport hotels to make your holiday extra special.
What is there to do around East Midlands airport?
East Midlands pubs and restaurants
Whether you fancy a quick bite to eat, a wholesome meal before your flight or maybe just a quiet drink, you're bound to find the perfect place at or near East Midlands airport. East Midlands airport restaurants and bars can offer places such as: the Three Cities Bar, the Three Shire Foodmarket and The Bar. If you're short on time there's also a Greggs, a Burger King and a Pizza Hut Express.
If you're spending the night in an airport hotel and you've got a bit of time on your hands there's an exciting array of restaurants and bars outside of East Midlands airport grounds. If you want to know more, take a look at some of the links to restaurants and bars near the airport.
Events in and around East Midlands
Its proximity to both Nottingham and Derby means there's always something going on around East Midlands airport. With a wealth of country fairs, Derby Feste, beer festivals and various other art, cultural and historical events around the area – there's plenty to keep you entertained. Whether you're staying with family or friends or you're coming to visit this part of the UK for a holiday, use the navigation below to find events that might be attractive to you.
Local attractions and places of interest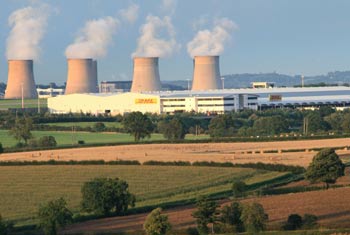 There's something to appeal to all ages in this area. Amusement parks for the whole family, indoor play areas for the kids, or landscaped gardens for those who want to wile away a lazy day. Take a look at some of our top recommendations for things to do in East Midlands.
What do others say?
The internet is a great place to find articles, reviews, blogs, websites and recent news, especially if you want someone else's opinion on an attraction. Want to find out the latest news on roadworks near East Midlands airport, or just some more information on a particular place to visit? Check out our list of some of the most popular websites, blogs and articles online below.