Available on all hotel packages except those marked
can't cancel, can't amend
---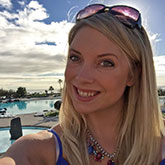 Hi, I'm Kate Jarvis, one of Holiday Extras' dedicated team who try every hotel we recommend. I've slept in the beds, eaten in the restaurants, sipped drinks in every bar and even worked out in the gym. And I can promise you that the Hilton at Gatwick easily deserves all its 4 stars, being 5 hassle-free minutes stroll from the check-in desks. Isn't it reassuring to know that we test every hotel and car park that we recommend?
---
Affordable luxury metres from the South terminal. One of our most popular hotels, the four-star Hilton at Gatwick airport is connected to the South terminal by a covered walkway. You're just an unhurried five-minute stroll from the check-in desks.
Unless you pitch a tent on the runway, you simply can't sleep closer to the planes. And the Hilton's extremely convenient for the North terminal too - it's just two minutes away on the free monorail, which runs every three minutes, 24 hours a day. If you want to roll out of bed and straight into the airport, this is the hotel for you.
Easy to find, impossible to beat
If you're driving to the airport, the Hilton couldn't make it easier to park. For the ultimate in convenience try our Gatwick airport Meet and Greet service, which collects your car from outside the hotel and brings it to you when you fly back from your holiday. If you'd prefer to park your own car, we have a secured car park at Gatwick South terminal, which is a very short bus ride away. If you're coming by public transport the Hilton is a five-minute walk from the station, undercover all the way.
Top quality facilities
The Gatwick Hilton has two excellent restaurants, two relaxing bars, a Costa coffee shop, a business centre and a gym. What's more, each of the more than 800 rooms at the Hilton Gatwick has internet access, satellite TV and pay-per-view movies. The only problem you'll have is finding the time for it all before you fly off on holiday.
Hilton Hotel is all that you need and more before going on holiday
︿
Directions to and from The Gatwick Hilton
It's really easy to find the Hilton at Gatwick - it's connected to Gatwick airport's South terminal by a covered walkway.
Hilton London Gatwick
South Terminal Gatwick Airport
,
Gatwick
,
West Sussex
,
RH6 0LL
.
United Kingdom
.
If you're arriving by car
Exit the M23 at Junction 9 and follow the signs for Gatwick Airport. At the first roundabout turn left towards the South Terminal. Move into the right hand lane. The hotel is on the left and is clearly sign posted. You can park right outside the hotel for 10 minutes while you drop off bags and passengers. Drive to one of the nearby airport car parks.
If you book Meet and Greet. Someone will meet you at the hotel to collect your car and deliver it back to you at the end of your holiday.
If you're arriving via public transport. Trains to Gatwick Airport arrive at the South terminal and it's a five-minute walk, under cover, from the train station to the Gatwick Hilton.
If you're arriving at the North terminal. You can catch the free monorail to the South terminal, which runs every three minutes, 24 hours a day, and takes just two minutes.
Checking out
The earliest check-in time at the Gatwick Hilton is 3pm.
The hotel is connected to the South Terminal by a covered walkway allowing easy access in under four minutes. If you're departing from the North Terminal you can take the free 24 hour monorail service, which runs every three minutes and takes around two minutes.
︿
Airport parking at the Gatwick Hilton
If you're planning to stay at the Hilton the night before your holiday, why not join thousands of satisfied customers and book your Gatwick airport parking with us as well?
The hotel at the top of its game provides parking on a higher level
The car parks we use for the Hilton at Gatwick are just minutes from the hotel and easy to find. Leaving your car with us is a convenient, simple and safe option - and our great value packages mean you can make big savings by booking your hotel room and your parking all together.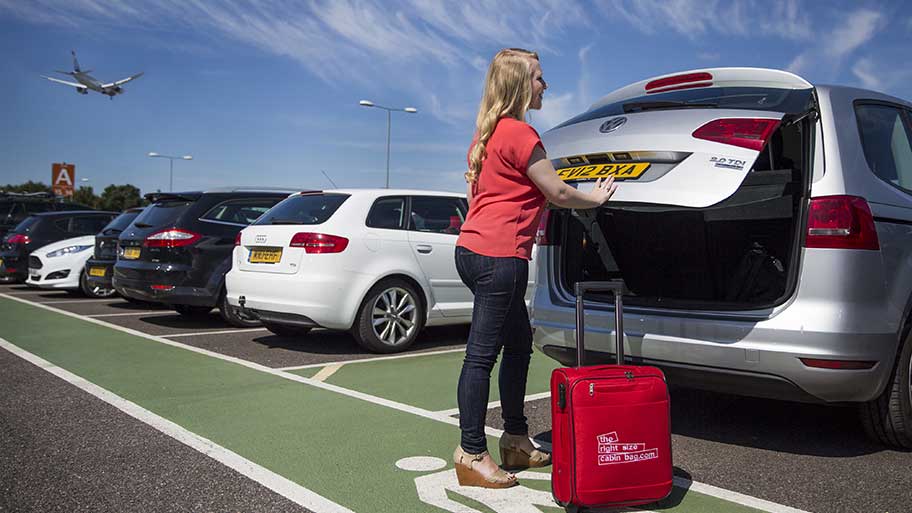 You've got three options for parking your car when you stay at the Hilton – dropping it off at our great value off-airport car parks, Airparks; parking it yourself in a car park at the North terminal; or booking Maple's Meet and Greet package, where your car is collected from the hotel, taken to a secured car park, and brought back to you at the end of your holiday. And with our Best Price Guarantee, we know you won't find your parking cheaper anywhere else.
Great all round service. Car parking was a pleasure even at 11 o'clock at night when we got back
Maple Meet and Greet
Your simplest and most convenient option if you're parking at Gatwick airport is to let someone else do it for you! When you arrive, one of Maple's chauffeurs will collect your car from you outside the hotel. They'll take it to Maple's secured car park, where it will stay while you're away. You're then free to check into the hotel and start your holiday. At the end of your holiday, Maple will bring your car to the terminal for you.
Purple Parking
The best value option is to combine your stay at the Hilton with parking at Purple Parking, a secured off-airport car park just three miles from Gatwick. Again, it's a very convenient option - you'll take your car to Purple Parking on your way to the Hilton, and Purple Parking will take you right to the South terminal. When you come back from holiday, Purple Parking will pick you up from the South terminal and take you back to the car park so you can pick up your car - the bus runs every 20 minutes.
︿
Bedrooms at the Gatwick Hilton
The first thing you'll notice about your room at the Gatwick Hilton is the peace and quiet. Even though there's an airport right outside your windows, those windows are soundproofed and triple-glazed so you can watch the planes taking off and landing without hearing a thing.
A standard room that tops all standards
We've tried it ourselves and not only do you get a great night's sleep, you get a surprise in the morning when you remember you're right in the middle of one of the world's busiest airports.
The room was excellent with the added bonus of being in the airport
The rooms are everything you'd expect from a Hilton – warm, elegant and sumptuously comfortable with every possible convenience at your fingertips.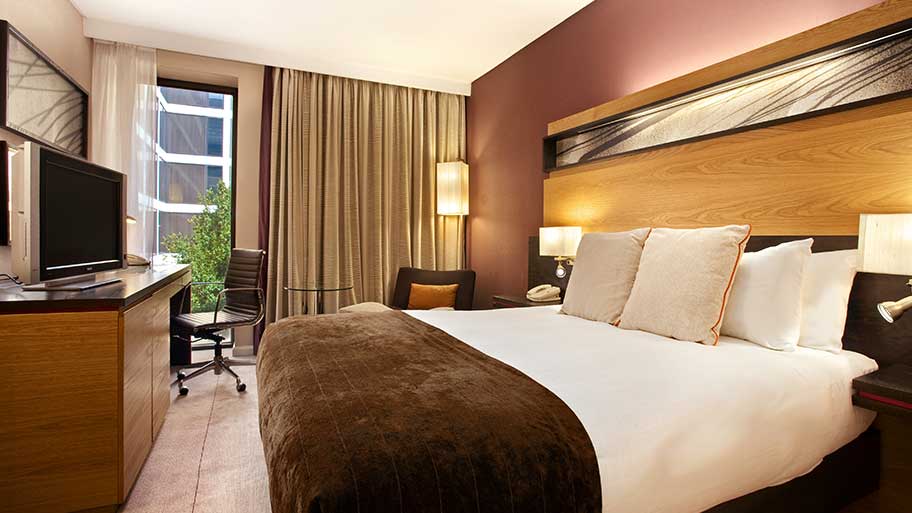 Every room has an en-suite bathroom with La Source toiletries, a plasma screen TV with pay-per-view movies, internet access, a telephone, a radio and MP3 player dock, a hairdryer, tea and coffee and air conditioning.
Double rooms
Standard double rooms at the Gatwick Hilton are large and luxurious at 23m2. Quiet, comfortable and very spacious for two, these beautiful rooms come with every modern convenience as standard. Relax with a book in the easy chair, spread your belongings out on the desk and sink blissfully into the big double bed at the end of the day.
Family rooms
The Hilton's Deluxe Family Rooms are even more spacious at 52m2 and have a large family bathroom and loads of storage. Deluxe Family Rooms come with one double and two single beds, and there's also the option of adding a cot or a roll-out bed so you can comfortably fit in up to three kids as well as mum and dad.
The Gatwick Hilton also offers Compact Family Rooms, which are still much larger than the standard doubles at 32m2. Compact Family Rooms have one double bed and two bunks, so there's plenty of space for two adults and two children.
Finally, the Hilton has a number of Family Interconnecting Rooms which are perfect for parents who want to keep the kids near at hand but enjoy some privacy for themselves.
The Gatwick Hilton also offers triple rooms with three single beds, which are suitable for three adults.
︿
Dining at the Gatwick Hilton
We recommend you reserve extra room (in your tummy)
It's worth staying overnight at the Gatwick Hilton just to enjoy the food. The Hilton boasts two excellent restaurants, two bars serving food and a Costa coffee shop offering cakes and hot drinks. For a really great start to your holiday, spend your evening at Amy's or the Garden Restaurant - and be sure not to miss the Hilton's world-class breakfast buffet before you fly.
The Garden Restaurant
The light and spacious Garden Restaurant serves breakfast and dinner every day - and you can save money on both when you book through Holiday Extras. Plus, children under 10 eat free - from a special children's menu created by child nutrition expert Annabel Karmel - as long as they're with an adult who is having a meal too.
Opening Times - Week Days
Breakfast

5.30am to 10.30am

Lunch

noon to 2.30pm

Dinner

6pm to 10.30pm
Opening Times - Weekend
Breakfast

5.30am to 11am

Dinner

5.30pm to 10.30pm
Menu
Breakfast
However you like to start the day, the Garden Restaurant's huge, delicious buffet breakfast will hit the spot. There's English breakfast, cold meats, cheeses, fresh fruit salads, a dozen different types of cereal and toast – and we've never seen so many pots of jam in one place! Breakfast starts at 5.30am, so linger over fresh tea, coffee and fruit juices if you have the time, or be in and out in under 10 minutes if you're in a hurry for an early flight (we've done it, it's really that quick). You couldn't hope for a better start to your day - or to your holiday.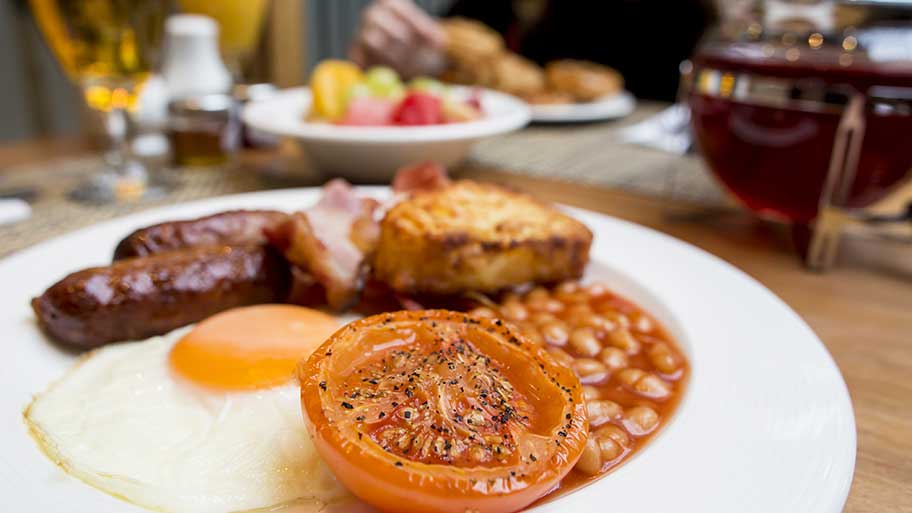 Dinner
If you're looking for plenty of choice, dinner at the Garden Restaurant won't disappoint. We recommend the buffet, serving a wide variety of dishes, from seafood starters and soup of the day to fresh salads and roasts from the carvery - plus a whole counter of delicious desserts and the hotel's extensive drinks menu.
Amy's Restaurant
The elegant, intimate Amy's Restaurant serves a la carte cuisine every evening. If you want to spend the night before you fly enjoying a truly world-class meal, book a table at Amy's now. Enjoy the food, enjoy the extensive wine list or just enjoy the company of your travelling companions in the quietly luxurious surroundings.
Amy's Restaurant is next to Amy's Bar, which is open until 2am every night, giving you plenty of time to finish your drinks or relax with a cocktail after dinner
Snacks and other dining options
Both Amy's Bar in the main atrium and Charlie Fry's Sports Bar serve bar meals, with Amy's offering excellent light lunches, including Grilled Chicken Caeser Salad and delicious sharing platters, hot sandwiches and plenty of vegetarian options.
For guests upgrading to an executive room, there's also the Executive Lounge, which serves free canapés every evening from 6.30pm and a free continental breakfast between 6am and 10.30am every morning.
︿
Refreshment at the Gatwick Hilton
Drink in a bar that's at the top of its game on top of the world
A wine list running to more than 50 bottles. Hot fresh coffee and tea. Cocktails, shaken and stirred. Draught and bottled beers. Service until 2am. If you're looking to start your holiday early with a few drinks, you've come to the right place. Try the Hilton Gatwick for its two excellent bars, a great selection of drinks and all the time you need to enjoy them.
Amy's Bar
Part cocktail bar, part cafe and part wine bar, Amy's has something for everyone.
Opening Times
Every day

8am to 2am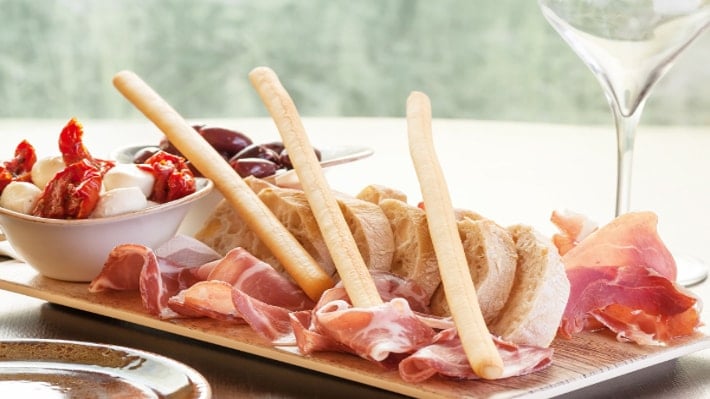 If you want a lighter bite for lunch, Amy's serves snacks every day from noon until 11.30pm. If you're looking for a comfortable spot to spend some time in the afternoon, it's a great place to catch up with your emails over a coffee, thanks to the wireless internet access. And Amy's Bar sits right next to Amy's Restaurant, so it's the perfect spot to unwind before dinner or retire to afterwards with a cocktail or two.
The Hilton at Gatwick was lovely, from the staff to the meal in the evening. It was worth every penny.
Charlie Fry's Sports Bar
Charlie Fry's Sports Bar is a relaxed, informal pub-style bar on the ground floor of the Gatwick Hilton. With big screen TVs showing all the latest sports and a wide range of beers, wines, cocktails and soft drinks, Charlie Fry's is a great spot for a quiet pint before or after dinner.
Opening Times
7 Days a week

5pm to 11pm
The atmosphere is friendly and the bar staff very accommodating – we asked them to change channels for the football one evening and they were happy to switch one of the TVs over for the match.
Charlie Fry's is right next to the Garden Restaurant, so it's easy to pop in for a drink before dinner or finish your drinks at your own pace after you've enjoyed your meal.
︿
Customer Reviews
Our customers rated Hilton on average 9/10 (4270 reviews). Read Hilton reviews.
Opt for luxury, right on the airport site. 2 bars, 2 fine restaurants, a gym, a Costa and a kid's menu. Wifi's free in public areas.
Covid-secure
The Hilton has upgraded its already high cleaning standards with their brand new CleanStay programme. From the moment you arrive at the hotel, you'll see a whole host of changes, with extra cleaning in all areas and sanitation stations with wipes and hand sanitiser for you to use. You'll need to wear a face covering in public areas of the hotel unless you're eating or drinking.
Your room will be cleaned thoroughly with disinfectants and enhanced cleaners, with extra emphasis on high-touch areas including light switches and TV remotes. There'll also be a CleanStay room seal on your door for added peace of mind that your room has been deep-cleaned ready for you.
Getting to the airport
The Hilton is a 3-minute stroll from the South Terminal through an exclusive indoor walkway. If you're travelling from the North Terminal use the walkway and take the free monorail at the airport over to the North, it takes about 2 minutes.
If you're travelling by train, you'll find the station on the lowest floor of the South Terminal. Follow signs for the Hilton.
The address and directions for the hotel will be on your booking confirmation if you need them.
Check in from 3pm, check out by 12 noon.
Airline early check-in - The hotel is a short walk from check-in so we recommend checking your bags in the night before and spending some extra time in bed!
British Airways, Easyjet, TUI and Virgin Atlantic all offer luggage check-in the evening before your flight to save you time in the morning. There are some terms & conditions and all passengers need to be present so if you're unsure check with your airline before you travel.
Parking
The Hilton does not have its own car park. If you'd like overnight parking with your stay, we recommend searching for one of our Hilton packages with parking.
Rooms
Guests say bedrooms at the Hilton are clean, bright and spacious with soundproof windows. Most standard rooms have a safe and fridge, but not all. If you'd like a room that has these, let the team know when you check in.
Rooms include:
Wifi (£14.95)
Queen-sized bed
Iron
Hairdryer
Air conditioning
Tea and coffee
TV with pay-per-view films
Telephone
Safe (not all rooms)
Fridge (not all rooms)
Room service (with a £5 tray charge)
Peter Thomas Roth toiletries
Triple rooms have a double and single bed or three singles. Family rooms have a double bed and bunk beds, suitable for children aged 12 and under. Family deluxe rooms have a double and two single beds.
Wifi
The wifi is free in the public areas - upgrade for £14.95 so you can get online from your room.
Accessibility
The hotel is accessible and has:
Ramp access
Hearing loops
Lifts
The hotel has two accessible double rooms which have:
32 inch wide doors
Emergency pull cords
Hand rails
Lowered thermostat controls
Inflatable chairs for assistance in the bath (if required)
Accessible bathrooms with grab bars
Service dogs are welcome and if you need assistance getting through the hotel, the Hilton can arrange this for you. If you would like an accessible double room please request one when booking. They cannot be guaranteed.
Restaurants
Nov 2020 - All restaurants are currently closed due to covid restrictions. You can get Grab n Go dinner and snacks from a reduced menu - order at reception.
Amy's restaurant - serves beautifully-prepared meat and fish dishes. A main here will cost £25 on average. Vegetarian options are available and for any queries regarding ingredients the hotel team will be happy to help.
Open 6pm - 10.45pm
The Garden restaurant - Closed until 2021. Serves a buffet-style dinner with over 100 dishes including a carvery and vegetarian options.
Open 5.30pm - 10.30pm
Bars
Nov 2020 - All bars are currently closed due to covid restrictions.
Amy's bar - serves hot drinks, light lunches, a selection of afternoon teas and cocktails. We recommend a mojito or a pina colada which will be around £10.
Open 10am - 1am during the week and 11am - 1am on weekends.
Charlie Fry's sports bar - Closed until 2021. Serves light meals as well as beers, wine, spirits and soft drinks. The bar shows live sports in a pub environment. A bottle of beer costs £4.60 on average and most main meals come in around £15.
Open 5pm - 11pm
Breakfast
Nov 2020 - The normal buffet isn't available at the moment, instead you can pick up a Grab n Go breakfast from Amy's Bar. It's available between 6.30am – 10am. You'll get a menu to chose from when you check in.
It's an English and continental buffet served in the Garden restaurant where you can eat as much as you like. You can save £3.95 per person when you book breakfast through us and one child under 10 eats for free with every paying adult.
Served 6am - 10am every day.
Alternatively there's a Costa at the hotel (Closed until 2021) - grab a quick drink and pastry before you go (it's quicker to get a coffee here than the terminal).
Things to do
The hotel has a free small gym. The gym is currently closed under England's covid restrictions.
Good to know
Government regulations require passengers at the airport to wear a face covering. Remember to bring a face covering and have it on before you get there. You'll need one for each member of your party.
Quad and triple rooms can't have a cot in them and you can't provide your own. If you need a cot, you should book an Interconnecting family room for five people to make sure there's enough space, otherwise you'll be charged £60 when you arrive to be upgraded to a five-person room.
To save waiting at the terminal for hours, we'd recommend dropping your bags at the check-in desk at the terminal, then heading back to the hotel for breakfast.
Airport trolleys are parked in the walkway just outside the hotel, so grab one when you leave. Don't forget, you'll need a £1 coin!
Hilton address
South Terminal,
Eastway,
London Gatwick Airport,
Crawley,
RH6 0LL
Hilton Additional Information
Star rating
Address
South Terminal,
Eastway,
London Gatwick Airport,
Crawley,
RH6 0LL
Breakfast times
6am - 10am
Disabled facilities
This hotel offers superb disabled facilities including lifts to accommodate wheelchairs.
Internet
Wi-Fi
Restaurant
Room service
All rooms non-smoking
En-suite bathroom
Trouser press
Kettle
Phone in room
TV
Satellite TV
Hilton room-only procedures
On the day of your stay
Head to the South Terminal where you will find the hotel - your confirmation will include directions and a postcode for satnavs if you need them.
The Hilton does not have its own car park. If you'd like overnight parking with your stay, we recommend searching for one of our Hilton with parking packages.
Getting from the hotel to the airport
There's an exclusive indoor walkway from the hotel to the South Terminal - it's a 3-minute walk.
To get to the North Terminal, use the walkway to the South Terminal and follow signs to the free monorail. It runs every 3 minutes and takes 2 minutes to get to the North Terminal.
︿