Top five green holidays
By Jonathan Clarke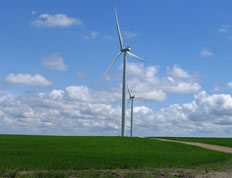 Maybe you'd like to head off on a green holiday but don't really know where to begin looking and which activities are good?
We've pulled together a few suggestions for the budding eco-traveller to help you get going.
Even if you don't go on any of these holidays, hopefully it'll inspire a new idea. If you've any suggestions for a green getaway that you think would be a great addition to our guide, feel free to leave a comment below.
Walking in the Carinthian Alps, Austria
Try walking in the picturesque foothills of the Alps in Austria, where you can visit some of the most traditional villages in the country. In the valley of Lesachtal, you can see old farming techniques still being used to this day. For example, in the summer, hay is often cut by hand. Experience also the clean mountain air without leaving any carbon footprint at all as you walk and hike your way around.
Top five green holidays
By Jonathan Clarke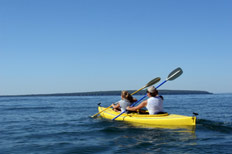 Sea kayaking in Sweden
To the south west of Stockholm, you can take to the seas in your own kayak, lead by a specialist guide. Tours can be booked taking you through the archipelagos and camping on the islands overnight. You'll be able to get closer to nature, improve your paddling technique, and see some of the best sights that Sweden's waters have to offer. It's only a couple of hours from London by plane, and the great thing about a holiday like this that you'll have next to no impact on the environment while you're there.
Lake Lucerne, Switzerland
Staying within the Alps, another great idea for the ecotourist is navigating around Lake Lucerne in Switzerland. Often mooted as the most idyllic lake in Switzerland, walks can be taken through the mountains with cable cars, boats and trains used to reach some of the harder to access areas. You'll want to be of at least average fitness to cope with the altitudes and climbs, but provided you are, the reward is one of the most scenic green walking holidays in Europe.
Top five green holidays
By Jonathan Clarke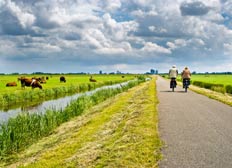 Cycling through Holland
If there's one thing that Holland is perfect for, it's cycling. The land is flat and open with canal paths, towns and cycle routes all perfectly suited for a holiday on a bike. Like walking and skiing, seeing a country by bike is a great way to move around while keeping your carbon footprint low. Of course, the advantage of a bike is that you can certainly cover much larger distances than you ever could on foot. If you want to see one of the most picturesque countries in Europe and stay green, you can't go wrong with a cycling holiday in Holland.
Ski tours in the Charmonix valley, French Alps
A ski tour is another way to be active on holiday while minimising your carbon footprint. By getting around under your own steam, you'll be reducing your impact on the environment as well as being able to see some of the remotest areas in the alps. A ski tour through the Charmonix valley can take you away from lifts, pistes and crowds to discover the untouched snow and beauty of the mountains.
Remember to book your airport parking, airport hotels and airport lounges with HolidayExtras.com.