Will my windsurfing gear be safe at the airport?
By Jonathan Clarke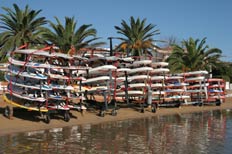 You must never leave any bags unattended at the airport. So assuming that you're always with your windsurfing equipment then it should be perfectly safe.
What you need to make sure is that it stays well protected once you've checked it into the hold.
You can do this by packing your board bags tightly, perhaps by padding them out with some clothes. Protect the ends of the board with some bubble-wrap. It should help to stop the board getting damaged easily while in transit.
Remember to book your airport parking, airport hotel and airport lounge with HolidayExtras.com.